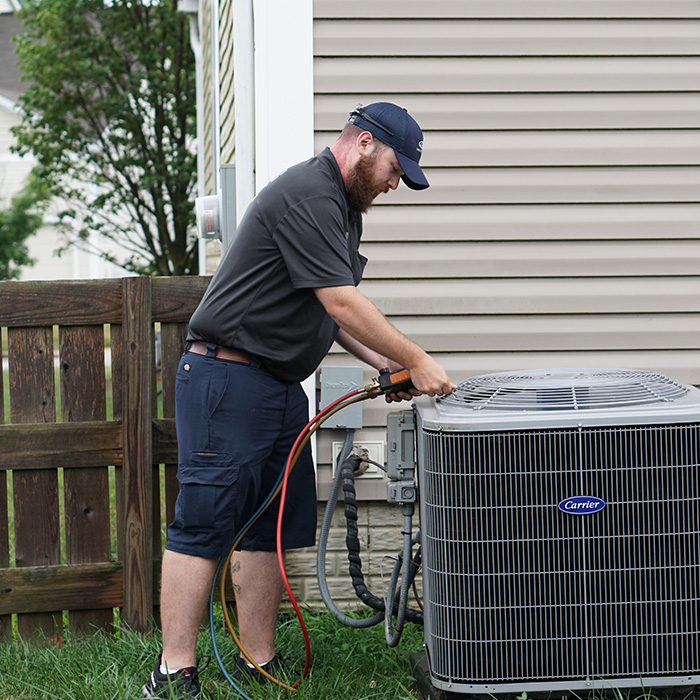 Air Conditioning Repair Services in Delaware, Ohio

At Delaware Heating & Air, we understand that your home is your sanctuary, and you deserve to have total home comfort. That's why we are dedicated to ensuring that your air conditioner is working at optimal performance, so you can feel the cool air as soon as you turn it on.
Our NATE-Certified Service Technicians are highly skilled and experienced in AC repair services. They are equipped with the knowledge and tools to diagnose and fix any issues your air conditioner may be experiencing. Whether it's a simple fix or a more complex problem, our team will work quickly and efficiently to get your AC unit back up and running, and keep you cool.
We pride ourselves on our prompt and reliable service, and we are always available to take your call and schedule a service appointment at a time that is convenient for you. Whether you need an emergency repair or regular maintenance, we are here to help.
Do You Need an AC Technician in Delaware, Ohio?
If your air conditioner is not turning on or blowing out cold air, we highly recommend calling us at (740) 227-8302, and we can get you scheduled for an AC Repair & Diagnostic. Additionally, other common symptoms may be noticeable to check as well, including: 
An Evaporator Coil that is dirty of frozen over

Electrical Wiring that may have gone bad or no longer have a good connection

If you see AC Refrigerant – there may be a leak.

It is making weird noises

You see a spike in your energy bills
If you need AC Repair Services done on your unit, call us at Delaware Heating & Air for all your Cooling & Heating Needs.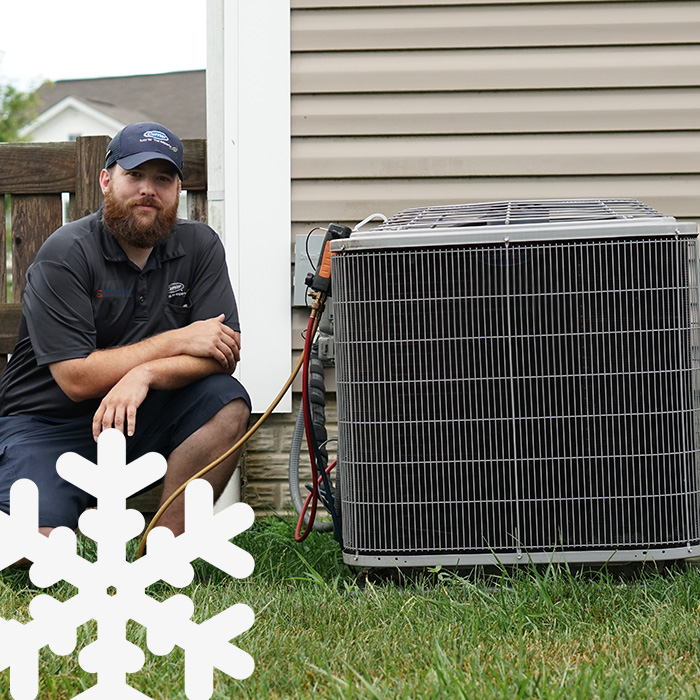 4 Signs You Need A/C Repair
Having crisp cool air in our homes is no longer a luxury in our modern society. But what if your air conditioning system isn't working properly? Sometimes it can be difficult to find problems with HVAC equipment in general and the symptoms can be hiding in plain sight.

THE UNIT BLOWS WARM AIR
If your air conditioner is not functioning properly and not producing cool air, it may be due to a malfunctioning A/C compressor or a leak in the refrigerant line. These issues can be efficiently fixed by a professional HVAC technician like Delaware Heating & Air. To ensure proper cooling in your home, it is recommended to contact an expert for a comprehensive inspection and repair.

HOME COOLING COSTS CONTINUE TO RISE
An unusual increase in your electric bill for cooling your home may indicate an issue with your air conditioner. While it is common for bills to rise during summer months due to increased usage, a significant difference in cost compared to previous summers may signify a problem. It is important to investigate and address any potential malfunctions to avoid excessive energy consumption and costs.

POOR AIRFLOW FROM THE SYSTEM
Contrary to popular belief, modern HVAC units do not require a "warm-up" period before providing cool air. If your air conditioner is blowing warm air, it is a indication of a malfunction. Additional signs of issues with your unit include weak airflow, poor ventilation, or prolonged operation without effectively reducing humidity. To address these problems, it is recommended to contact a reputable HVAC company like Delaware Heating & Air for diagnosis and repair. They can provide an efficient and cost-effective solution.

HIGHER LEVELS OF HUMIDITY

Air conditioners play a crucial role in removing humidity from the air, especially in humid states like Ohio, to create a comfortable living space. If you notice water accumulation near your windows or outdoor unit, or if the indoor air feels damp, it may indicate that your air conditioner is not functioning efficiently. This is a strong indication that your air conditioner needs to be examined by a professional HVAC technician to identify and resolve the issue.
Commonly Asked A/C Questions
When to Repair vs. Replace Your Heating System?
Deciding whether to repair or replace your air conditioner can be a difficult decision. While replacement can be costly, it's important to ensure that the unit has reached the end of its lifespan before making that decision. Our technicians will provide an honest assessment of the condition of your unit and will not recommend replacement unless it is necessary. In most cases, repairs can be made to extend the life of the unit.
A general guideline is to replace the unit if the cost of repairs exceeds the cost of replacement. It may be more cost-effective in the long run to invest in a new unit, similar to a car, when the repair costs exceed a certain point. Our technicians will provide guidance and help you make the best decision for your situation.
We recommend scheduling a diagnostic service call to determine the best course of action for your air conditioner.
What is a central air conditioners?
A central air conditioning system cools the air at a central location and circulates it throughout the home using fans and ducts. The cool air is distributed to different rooms through supply ducts and registers.
Benefits:
It is virtually invisible as it is installed in one central location.
It increases the value of your home.
The installation cost is relatively lower.
Drawbacks:
It requires regular maintenance, typically done annually.
Ducts need to be cleaned every few years to maintain optimal performance.
What is a ductless mini-split air conditioners?
A ductless mini-split system consists of two main components: an outdoor compressor and an indoor air-handling unit. The two units are connected by a conduit.
Pros:
Ductwork is not required, making it a convenient option for older buildings with thick walls.
Temperature is more consistent as the unit does not turn on and off throughout the day.
It can also function as a heating system during the winter by absorbing heat from the outside air and transferring it indoors.
It has a compact size, making it easy to install.
It is quieter than central A/C systems and requires minimal maintenance.
Cons:
The initial cost of installation can be high.
What is the benefit of a certified technician?
Make sure when you are having AC or HVAC repairs done, that you use a professional AC Repair Technician that is licensed and certified. We will be able to walk you through what the issue is and complete minor AC Repairs for you that will help you avoid any costly major Air Conditioner issues down the road.