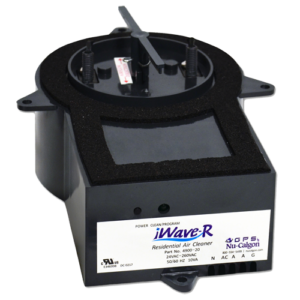 Experience the iWave-R Today!
With the COVID-19 pandemic changing the way we live, the iWave-R has grown in popularity as it is very helpful in cleaning the air and killing viruses in indoor air supplies. This air purification system comes at an extremely modest-price for all the work it does without ever needing maintenance. A highly innovative device that can be installed inside the air ducts of any HVAC system.
If you're interested in improving your indoor air quality, schedule iWave-R services with the HVAC experts at Delaware Heating & Air today!
Whole-House Air Cleaner + Installation
A Whole-House Media Air Cleaner traps and filters airborne particles and contaminants passing through the duct system insuring cleaner air and is up to 85% more efficient at removing airborne particles than a standard 1-inch furnace filter. Get the benefits of a whole-house solution for improving the air in your home!

$399 Whole-House Air Cleaner + Installation
Save $100 | Regular $499
Over 45 Years of HVAC Experience!
As part of our 100% Satisfaction Guarantee, we pride ourselves on having highly-skilled technicians, friendly customer support, high-quality products, and top-ranked HVAC services.
Services
We specialize in providing high-quality Heating, Cooling, and Indoor Air Quality Services in Delaware, OH, and surrounding areas. Not sure what HVC services you need? We provide free online estimates!
Quality Products
We only carry top-of-the-line HVAC brands such as Trane, Lennox, Goodman, and many more. Our trucks stay stocked with equipment and replacement parts during every dispatch so our technicians are ready to solve any problem that may arise, all while being mindful of your time.
Customer Support
We operate from 7 am – 9 pm, 365 days of the year (including holidays). Our courteous customer support team is standing by to answer any and all questions you may have. In case of an HVAC emergency, don't hesitate to call us right away.
Performance
Our highly-skilled, NATE-certified technicians are heavily trained on the best HVAC practices and customer interaction. When they visit your home, they'll be friendly, respectful, clean, and knowledgeable. We pride ourselves on our efficient performance, making our visits quick and painless.
Take advantage of our generous financing offer in Delaware, OH. At Delaware Heating & Air, we believe you can live comfortably in your own home without breaking the bank on unexpected HVAC services. Buy today and pay over time on your new system installation. Our application is easy and your payments will be manageable. Learn more about our financing options and online deals today!