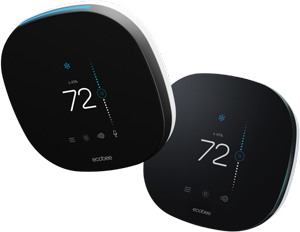 Experience a New Thermostat Today!
With their cool features and remote controllability, today's modern smart thermostats are a far cry from the old hockey-puck-looking knob on the wall many of us grew up with. Today's smart thermostats are programmable, smart home compatible, and they're useful for conserving energy and curbing overall heating and cooling expenses. Because these thermostats are so much more advanced, they enable superior control of your home's overall air quality and temperature. These thermostats are priced affordably, so investing in a thermostat upgrade means more savings in efficiency and improved overall temperature consistency throughout your home. If this interests you, we would be happy to show you the different smart, energy-efficient options to choose from.
If you're looking for more control over the temperatures in your home, our technicians at Delaware Heating & Air are the Indoor Air Quality experts in Delaware, OH! We want you and your family to live in comfort, breathing the best quality of air possible. Give us a call today to schedule services!
Wi-Fi Thermostat + Installation
Help keep your energy bills down by getting a programmable thermostat. Many families are gone all day or out of town for the weekend – programmable thermostats allow you to schedule everyday heating needs and have a vacation schedule as well, helping keep your home the perfect temperature for your busy life! Learn more about this deal and schedule today!

$299 Wi-Fi Thermostat + Installation
Save $100 | Regular $399
Over 45 Years of HVAC Experience!
As part of our 100% Satisfaction Guarantee, we pride ourselves on having highly-skilled technicians, friendly customer support, high-quality products, and top-ranked HVAC services.
Services
We specialize in providing high-quality Heating, Cooling, and Indoor Air Quality Services in Delaware, OH, and surrounding areas. Not sure what HVC services you need? We provide free online estimates!
Quality Products
We only carry top-of-the-line HVAC brands such as Trane, Lennox, Goodman, and many more. Our trucks stay stocked with equipment and replacement parts during every dispatch so our technicians are ready to solve any problem that may arise, all while being mindful of your time.
Customer Support
We operate from 7 am – 9 pm, 365 days of the year (including holidays). Our courteous customer support team is standing by to answer any and all questions you may have. In case of an HVAC emergency, don't hesitate to call us right away.
Performance
Our highly-skilled, NATE-certified technicians are heavily trained on the best HVAC practices and customer interaction. When they visit your home, they'll be friendly, respectful, clean, and knowledgeable. We pride ourselves on our efficient performance, making our visits quick and painless.
Take advantage of our generous financing offer in Delaware, OH. At Delaware Heating & Air, we believe you can live comfortably in your own home without breaking the bank on unexpected HVAC services. Buy today and pay over time on your new system installation. Our application is easy and your payments will be manageable. Learn more about our financing options and online deals today!