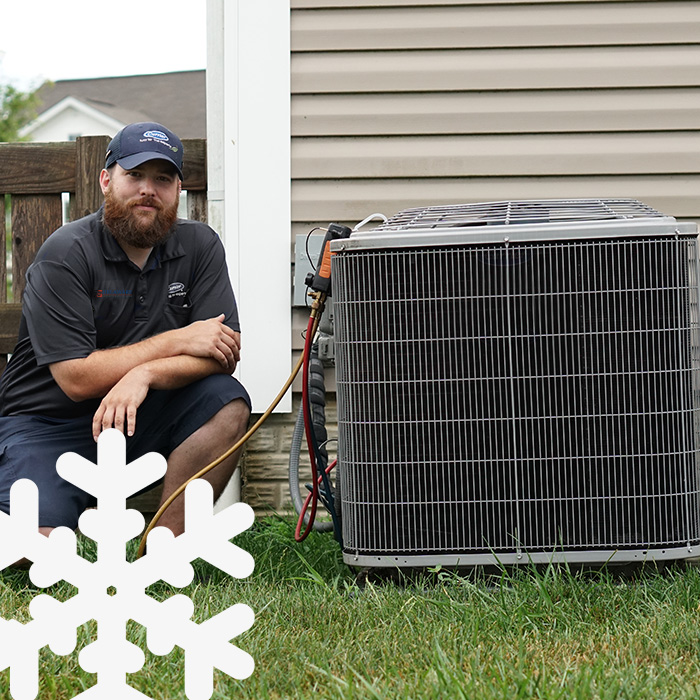 Delaware, Ohio's Trusted Air Conditioning Services

Delaware Heating & Air has been providing exceptional Air conditioning services and products to homeowners and businesses in the greater Delaware, Ohio. During that time, we've earned an unparalleled reputation for quality, trust, and customer service—three pillars that, as a local family-owned and operated company, we've been committed to since day one.
For Delaware homes and businesses, this trust and reputation are critical. From Air conditioning design and installation to ensure your systems are efficient—and always up and running—our expert team can help. Get in touch to learn more and book a consultation now.
Explore Our Air Conditioner Services

AC Repair Services in Delaware, Ohio
At our AC repair services in Delaware, Ohio, we understand the importance of having a reliable and efficient air conditioning system in your home or business. Our team of experienced technicians are trained to handle any type of AC repair, from simple fixes to complex issues. We use state-of-the-art tools and equipment to diagnose and repair your AC unit quickly and effectively.

AC Maintenance Services in Delaware, Ohio
We recommend scheduling an AC maintenance check-up at least once a year, ideally before the start of the summer season when you'll be relying on your AC the most. During the maintenance visit, we'll clean and inspect the condenser and evaporator coils, check the refrigerant levels, and ensure that all electrical connections are secure. Additionally, we'll also check the air filter and replace it if necessary.

AC Installation Services in Delaware, Ohio
If you're in need of AC installation services in Delaware, Ohio, look no further. Our team of experienced technicians at XYZ Air Conditioning and Heating have the knowledge and expertise to properly install any type of air conditioning unit in your home or business. We understand the importance of a functioning AC system and we provide our customers with the best service possible.
4 Cooling Efficiency Tips

Use Thermostat Properly
Maximize the efficiency of your thermostat by setting it to a comfortable temperature and, if needed, adjusting it to control humidity levels. Keeping the difference between indoor and outdoor temperatures minimal can help reduce your overall cooling costs.

Seal Windows
Prevent warm air from entering your home by sealing any gaps and cracks in the walls, windows, and doors with caulk and weatherstripping. This will also help to maintain the efficiency of your home's insulation.

Utilize Window Coverings
Utilize window coverings to block out the heat from the sun during the day by installing treatments such as shades, blinds, or curtains. This can help improve the energy efficiency of your home and reduce the amount of heat gain through your windows. It's important to research and find the right window treatments that can best meet your needs and improve energy efficiency.

Schedule Seasonal Maintenance
Regular maintenance is essential for keeping your home cooling system running efficiently, ensuring that it lasts for many years. By scheduling regular maintenance, you can reduce your monthly costs and prolong the lifespan of your system.
Commonly Asked AC Questions
When should I call for air conditioner repair?
If your air conditioning unit is showing signs of wear and tear, it may be time to consider a replacement. Some common signs of a malfunctioning unit include blowing hot or warm air, weak or inconsistent airflow, moisture or leaks around the unit, and strange noises. If you are experiencing any of these issues, it's best to contact a professional for a diagnostic service call. Don't let an aging unit leave you living in discomfort. Schedule your service today to ensure that your cooling system is running efficiently and effectively.
What is A/C refrigerant?
The substance known as refrigerant plays a crucial role in the cooling process. It is typically in a liquid or gas state and has the ability to absorb heat from its surroundings. When paired with components such as compressors and evaporators, it allows for refrigeration and air conditioning to occur.
How does a central A/C system work?
The central air conditioning system, also known as a split system, is made up of two main components: an outdoor compressor unit and an indoor coil. The compressor uses electricity to circulate refrigerant through the system, which absorbs heat and moisture from inside the home and releases it outside. The cooled indoor coil then blows cool air back into the home, maintaining a comfortable temperature. Alternately, central air conditioning can also be provided through a package unit or a heat pump. Contact us today to schedule your services.