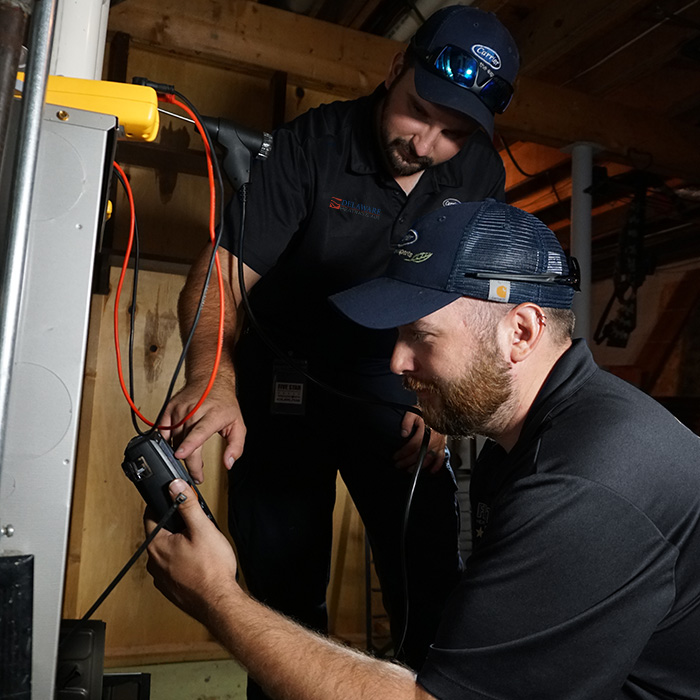 Expert Furnace Repair Services in Delaware, Ohio

Delaware winters can be harsh and unforgiving, which is why having a reliable furnace is essential. But when your furnace starts acting up, it can be a stressful and inconvenient situation. That's why Delaware Heating & Air is here to help. Our premium furnace repair services are designed to get your furnace back up and running as quickly as possible. Whether your furnace is making strange noises, emitting a foul odor, or simply not working, our team of seasoned, licensed HVAC technicians can diagnose the problem and make the necessary repairs.
We understand how important it is to have a functioning furnace during the colder months, which is why we offer prompt and efficient service. Our technicians are equipped with the latest tools and technology to ensure that your furnace is repaired correctly and to your satisfaction.
When to Repair vs. Replace Your Heating System
When it comes to furnace maintenance, it's important to consider the age of your unit. The average lifespan of a furnace is 15-20 years. If your furnace is less than 15 years old, repairing it may be the best option. But if your furnace is older than 15-20 years, it may be time to start thinking about upgrading to a newer, more modern unit.
Another indication that it may be time for replacement is if you find yourself frequently in need of repairs, and the cost of these repairs starts to add up. These are just a few factors to consider when deciding whether to repair or replace your furnace.
If you're unsure of what the best option is for your furnace, schedule a diagnostic service call with Delaware Heating & Air today. One of our skilled technicians will help you determine the best course of action for your furnace and provide you with all the information you need to make an informed decision.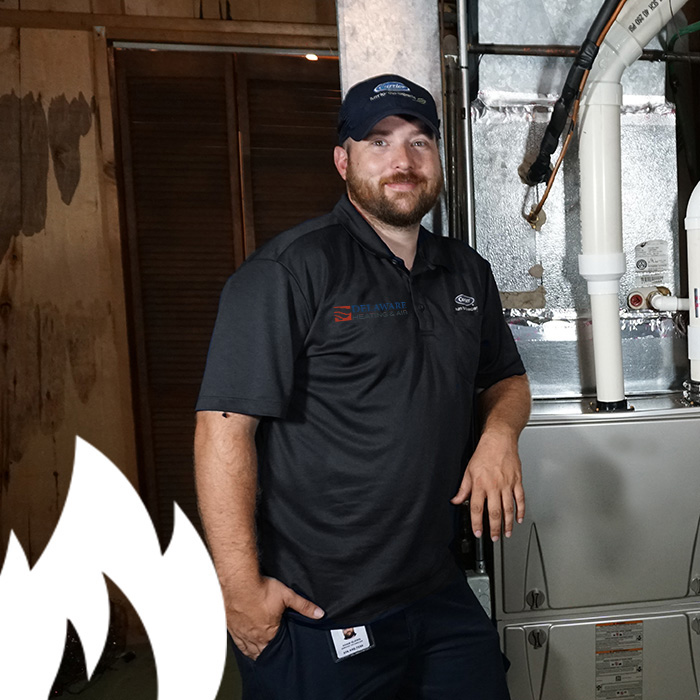 Top 4 Furnace Warning Signs

NO RESPONSE TO THERMOSTAT
If your furnace isn't working and your home is cold, it may be due to a faulty thermostat. First, check the batteries in the thermostat. If it doesn't use batteries, inspect the wiring. If the wiring is fine, there could be another issue, such as a faulty pilot light.

YELLOW FLAME PILOT LIGHT
A blue pilot light is the desired color. If your pilot light flame is yellow, it's a warning sign and requires attention. A yellow flame indicates an incorrect mixture of gases, indicating that the furnace is not functioning properly. Gas is a serious matter, so the pilot light should always be blue, reflecting a proper balance of gases. The blue light should not flicker. However, a yellow pilot light can often mean the presence of carbon monoxide, which is dangerous. Call us right away if you see a yellow pilot light. Safety should always be a top priority.

UNUSUAL SOUNDS OR NOISES
It's normal to hear a soft humming noise from your furnace's motor, even if it's brand new. The distinction between normal sounds and unhealthy ones should be apparent to you, as it's a matter of common sense and can be remembered from when it was new. If you hear screeching metal, grinding, squealing, whistling, pounding, or slamming, contact us for assistance and inspection. This can prevent breakdowns and avoid potential costly issues in the future.

RISING HEATING COSTS
If you notice an increase in your heating bills, it may be due to an inefficient system. Several factors can lead to a decline in furnace performance, so it's best to be proactive and contact us. We'll identify the issue and find affordable solutions, which can often be resolved with a maintenance visit or seasonal tune-up.
Commonly Asked Furnace Questions
When should I call for furnace repair?
As your furnace reaches its 15-20 year mark, it's more likely that you'll encounter some issues with it. Don't let a malfunctioning furnace disrupt your comfort and daily routine. If you're experiencing any of the following problems, don't hesitate to contact Delaware Heating & Air for immediate assistance:
The furnace is not working at all
Cold air is coming out of the vents instead of warm air
The ignition light is not functioning properly
The furnace flame sensor is not detecting flames correctly
The motor is showing signs of wear and tear
The thermostat is not working properly
If you're not sure what's causing the issue with your furnace, schedule a diagnostic service call with us today. Our experienced technicians will identify the problem and recommend the best course of action to get your furnace back to working properly.
What is carbon monoxide?
Carbon monoxide (CO) is a dangerous gas that is colorless, odorless, and toxic. According to the Environmental Protection Agency, low levels of exposure can cause symptoms such as headaches, dizziness, disorientation, nausea, and fatigue, which can often be mistaken for the flu.
If you suspect a carbon monoxide leak in your home, it's essential to take immediate action. Evacuate yourself and any other persons or pets from the inside of the home immediately. Use a phone located outside of the home to call your local gas utility and/or the fire department for assistance. Never take chances with carbon monoxide, it's crucial to act fast and seek professional help if you suspect a leak.
How is the efficiency of heating equipment measured?
The S.E.E.R. (Seasonal Energy Efficiency Ratio) is a measure of how efficiently a cooling system uses electricity. It represents the amount of cooling your system will deliver per dollar spent on electricity. For instance, a 3-ton unit with a S.E.E.R. efficiency rating of 13, 14, or 15, the higher the rating, the more efficient the system will be. S.E.E.R. ratings can range anywhere from 13 to 17 for different units.